On March 3, 2021, an special victims unit investigator was contacted by uniform patrol deputies to assist with a domestic violence incident. A victim that had been transported to Spartanburg Regional via ambulance with multiple injuries to her face, head, neck and body. The victim's boyfriend, whom she cohabitated with, had struck her with a lamp, a table leg, and his fists. He continued his assault by picking her up and slamming her down, kicking her multiple times and stomping on her neck. She was able to get out of the residence and run towards Cleveland Park. The suspect was able to catch up to her and assault her again. He drug her down towards the pond at the Cleveland Park. During this assault, he told her that he was going to end her life. The victim was able to get away from the suspect and run to a neighbor's house, who allowed her inside. 911 was then called by the neighbor. While the victim was being transported to the hospital, Hilltop Fire Department was dispatched for a residential structure fire at the incident location of 124 N. Cleveland Park Drive, Spartanburg, SC, 29301. There was no one on scene when fire department responded. Contact was made with the owner of the property, who was uncooperative and showed little concern for the residence.
While investigators were on scene at N. Cleveland Park Dr., we were advised that Spartanburg City officers were in route to a residence in their jurisdiction, 350 Pierpont Ave., involving the same male suspect for the domestic incident. Soon after this, we were advised that there was a vehicle fire at this same residence. While both Spartanburg County and Spartanburg City personnel were on scene and in the area of the Pierpont incident, we were made aware of yet another vehicle fire. This fire was on Hillside Drive. The address provided belonged to the mother of the domestic incident at 124 N. Cleveland Park Dr. While Spartanburg County deputies and investigators were on scene at this location, multiple deputies were in the area looking for the suspect. A Spartanburg County deputy did observe the suspect walking down Hwy 221 near Mapletree Lane. The suspect would not comply with requests to stop walking. Multiple units then responded and surrounded the suspect. The suspect then opened a water bottle that contained gasoline to keep deputies back. Once a Spartanburg County K-9 unit arrived on scene, the suspect decided to surrender and was arrested without incident. The suspect was transported to the Sheriff's Office to speak with investigators. The suspect was identified as Ray Michael Bradford, Jr., B/M, DOB: 101084, address same as incident location. After being mirandized, Bradford did confess to the assault on his live-in girlfriend, setting the residence on fire at 124 N. Cleveland Park Dr., vandalizing and setting the vehicle on fire in Spartanburg City's jurisdiction, and setting the vehicle on Hillside Drive on fire. He did state to investigators that had he not been stopped, he would have continued his actions. The above acts of violence were fueled by the government keeping his $600 stimulus check and wanting to get even with those who had hurt him in the past.
After consultation with the Solicitor's Office, Bradford was charged by both Spartanburg County and Spartanburg City with Attempted Murder, 3 counts of Arson, and Malicious Injury to Personal Property. A formal bond hearing was held on Bradford yesterday afternoon, where a magistrate denied bond on all his charges. Attached above is his booking photo, the incident reports, and the warrants. This agency would like to thank the Spartanburg Police Department for their assistance in the investigation of these violent incidents.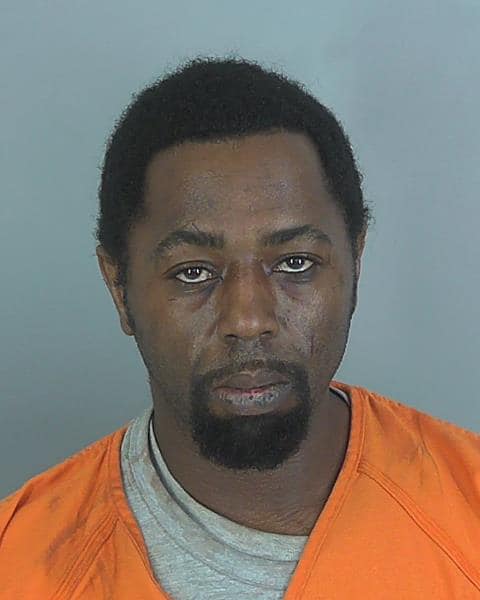 Ray Michael Bradford