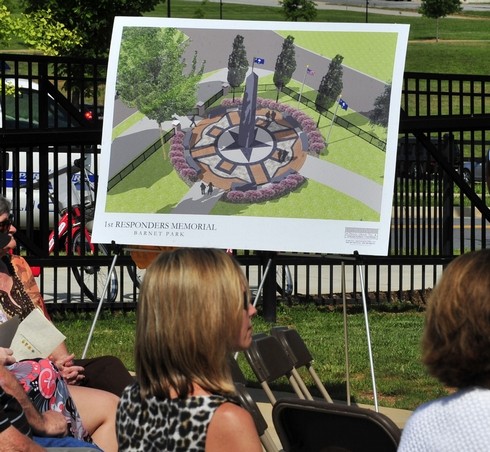 Plans for the First Responders Memorial were unveiled Thursday morning before a crowd of law enforcement officers, firefighters, emergency medical responders and families of those who died in the line of duty. The memorial will have four sides: one with information on the park and the date of its dedication, and one side each for emergency personnel, law enforcement and firefighters killed while in service.

The obelisk will be visible from St. John Street and situated on the Star of Life, the symbol for EMS; the Maltese Cross, the firefighter symbol; and the star for law enforcement, said city of Spartanburg Fire Chief Marion Blackwell.

Organizers need to raise $150,000 for the memorial. About $50,000 — the largest gifts from Spartanburg Regional Healthcare System and the city of Greer — has been committed for the project.

"If I had the money, I'd pay for it myself," said Brian Cooper, who still fights back tears talking about his uncle, Richard Eugene Webb, a firefighter with Whitney Fire Department who was killed in 1985. Webb, 36, was struck by a car while responding to a crash on Interstate 85.

The idea swelled from plans for the county's 9/11 memorial service.

"The 9/11 Memorial in New York pays tribute to first responders and recovery workers, and that's fitting and appropriate. But we thought we needed — in our own way — to honor those who gave their lives in Spartanburg County," Blackwell said.
Spartanburg County first responders honored on memorial:

Firefighters
Robin E. West, Startex, 06/19/2011
Charles R. Flintom, Pelham- Batesville, 07/04/2010
Lee A. Steele, Poplar Springs, 6/23/1996
Monte J. Harmon, Poplar Springs, 06/23/1996
Loyd E. Horton Jr., Spartanburg, 04/09/1992
Robert E. Lee, Cowpens, 03/11/1990
Ray A. Hayes, Pauline Glenn Springs, 07/20/1988
Richard E. Webb, Whitney, 01/31/1985
Donald B. Smith Jr., Westview Fairforest, 06/14/1976
Henry Oliver Cannon, Spartanburg, 04/08/1970
Carl W. Miller, Greer, 11/21/1927

Emergency Medical Services:
Bob Giard, SRHS Regional One, 07/13/2004
Glenda Tessnear, SRHS Regional One, 07/13/2004
David Bacon, SRHS Regional One, 07/13/2004

Law enforcement:
Kevin Carper, Spartanburg County Sheriff's Office, 02/27/2007
Joe Cletus Wall, Chesnee Police Department, 06/09/1967
Clarence P. McGee, Pacolet Police Department, 07/18/1963
Thomas Fox Abrams, Spartanburg Police Department, 01/06/1962
Charlie Smith, Duncan Police Department, 06/24/1939
Bruce Barker, Chesnee Police epartment, 05/30/1938
Guyon Loxie Phillips, Chesnee Police Department, 07/01/1936
John David Cunningham, South Carolina Highway Patrol, 06/01/1933
Ellis A. Shields, Spartanburg County Sheriff's Office, 10/01/1925
James R. Snoddy, Spartanburg County Sheriff's Office, 06/04/1925
Hampton Patterson, Spartanburg County Court Constable, 08/26/1923
William Zonk Foster, Greer Police Department, 01/01/1904

First Responders Memorial Planning Committee
Fire Chief Marion Blackwell, Spartanburg Public Safety Department
Lt. Tim Suber, Spartanburg Public Safety Department
Officer Tina Hurne, Spartanburg Public Safety Department
Rodney McAbee, Spartanburg Emergency Medical Services
Chief Larry Brady, Spartanburg County Fire Chiefs Association
Chief Patrick Evatt, Spartanburg County Fire Chiefs Association
Capt. Tim Metz, Spartanburg County Sheriff's Office
Capt. Allen Freeman, Spartanburg County Sheriff's Office



Article by: Lynne P. Shackleford of Spartanburg Hearld-Journal
Photo by: Michael Justus of Spartanburg Herald Hearld-Journal